"What's the dumbest thing you have ever seen me do?"
That que
stion was posed on Facebook by a good friend of mine. My friends and I have done all kinds of crazy things together, like traverse mountain ranges that take most hikers 3 days to complete in 8 hours; run 20 miles in bitter, -2 degree (Fahrenheit) cold; ride our bikes across the country; start a non-profit with virtually no resources to help disadvantaged kids the minute I finished college; swim a mile through shark-infested waters.  But we never go into the mountains without the right gear and always have a bailout plan should something not go according to plan, no matter what the undertaking. And seriously, how many people actually get attacked by a shark? Wouldn't that be a sort of 'badge of honor?'
I have not yet responded to his post because none of those things were "dumb" and we are stronger and better because of those adventures. Were they risky? Sure — at many points in my life I could have been hit by a car (which I have several times), gotten lost (check), acquired hypothermia (check), or failed — in any number of ways (and check). The risks, so far, have not killed me. And the rewards, in aggregate? I have a decent chance of finishing life with few if any regrets.
Still, there are risks that are not worth taking. Which bring's us back to Glenn's question. Glenn, actually, has done a lot of really dumb things; I just have not witnessed any, probably because we have the same perspective. I think often about the dumbest thing I have ever done. And time and time again I always come back to one  incident involving a bi-valve.
The incident in question, which took place in 1994, involved a very, very big bi-valve.
After spending 2 of the best years of my life as a water supply engineer in Nepal, working for the Peace Corps (not dumb), my friends and I departed on a circuitous 3-week journey (not dumb) back to Boston. The focal point of our trip was to ride our bikes around Bali (not dumb). Let me tell you — there are many reasons to go to Bali — one is the fruit. I remember eating some of the craziest fruit there… reptilian-like skinned fruit-delicasies with the inside-texture of a bosc pear and the flavor of a kiwi. And, of course the Dorian. This is the cilantro of the fruit world — you love it, or you hate it. It has been described in many ways, with most descriptions including words such as "putrid," "nasty," "disgusting," "vomit-inducing," even from those who love it. I am in the 'love it camp,' and am much nicer to this unappreciated exotic delicacy than many others. To me, it has the texture and flavor of vanilla-garlic pudding and the smell of baby diapers (used). If only there were a way to disconnect the smell it would be perfect.
On the course of our journey we bought ferry tickets to visit an island off Bali known as Lombak. As we waited in the ticket line I overheard a conversation. Having picked up a few words and phrases in Indonesian, I knew enough to realize the price given to my friends and I were higher than the customers just before us. Of course, I was livid; how dare they overcharge us just because we were gringos! I could see right on the pricing sign that tickets to Lombak were like 20 rupees, and right next to the price were the words "anak anak." The ticket guy was trying to charge us some other price so I demanded the "anak anak" price! After my feeble attempt to communicate by stringing together the 6 or 7 Indonesian words I knew, I gave up and paid the "gringo" price. Once we boarded the ferry I looked up anak anak in my dictionary — turns out anak means child! Dop! It also turns out Indonesian follows a very simple language structure; want to pluralize a word? Just say it again!
So we get to Lombak and spend the next couple days climbing a 12,000′ volcano (definitely not dumb) and sleeping in the crater (maybe a little dumb — apparently it just erupted back in September — that would have been bad timing…). This is a national park, hot springs and geysers all over the place (Luckily the hot springs we decided to bath and cook our meal in were not full of sulfuric acid). We were tempted to swim to the island in the middle of the crater but someone had enough sense to nix that idea; but I kind of wish we did. Sleeping in a volcano crater in a completely unspoiled, unregulated place — very cool (and, not dumb).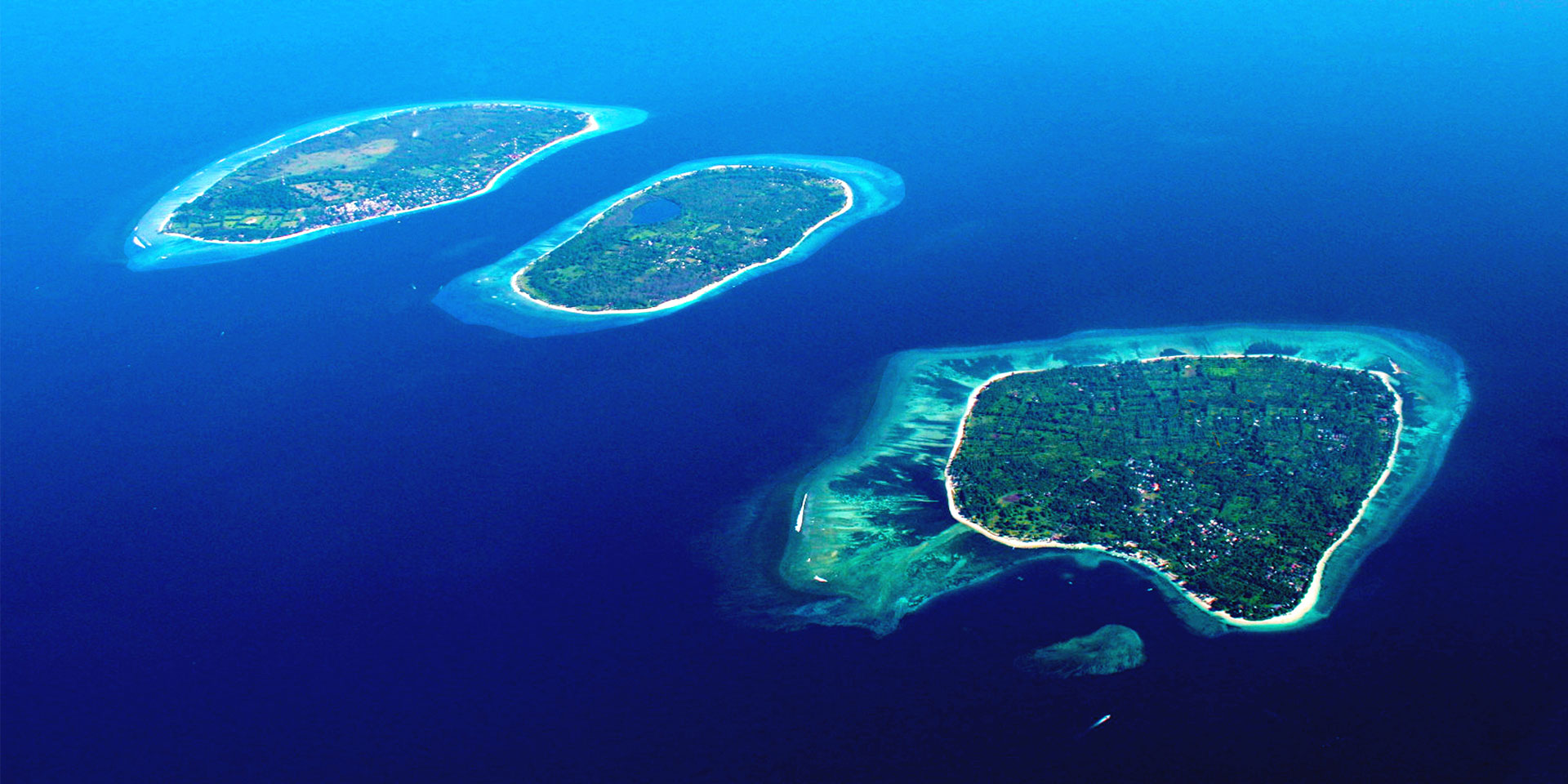 After the volcano trip we decided to take another ferry to an even smaller island (not dumb)– known as Gili Trawagan. OMG — this place was so cool and pretty much unspoiled back in 1994. We stayed in bamboo huts feet from the beach and lounged around, snorkeled, swam and ate all day long for about 5 days. Perhaps it was an abundance of free time and the associated boredom that led to the next series of events. One evening, at about sunset, my friend Joe and I went for a snorkel. Right off the beach was a phenomenal place for snorkeling with coral reefs feet from the shoreline and and clams strewn about the seafloor. No, this not their natural habitat. But apparently the hut customers like to eat giant clam meat and so fishermen would catch the clams ("catch?" maybe not the best word — I can't imagine they put up much of a chase) and store them just off shore til they are ready to kill and eat them. Unfortunately these beautiful animals are endangered because of this type of activity — for the record I being a strict vegetarian I have not eaten a clam since I was about 10 — and even then I found them pretty disgusting.
So here we are — my friend Joe and I — cruising around about 100′ offshore gazing at the astonishing aquatic life around us. We swam to the bottom and stayed there for a bit, and I found this perfectly round stone, which I brought to the surface. Having nothing better to do, we examined its smooth surface and wondered about what it had seen over its  existence. We were perched over one of these clams — a monster, probably about 4′ across. How much does a 4′ clam weight? I just checked and google says 510lbs; which is the largest clam ever found at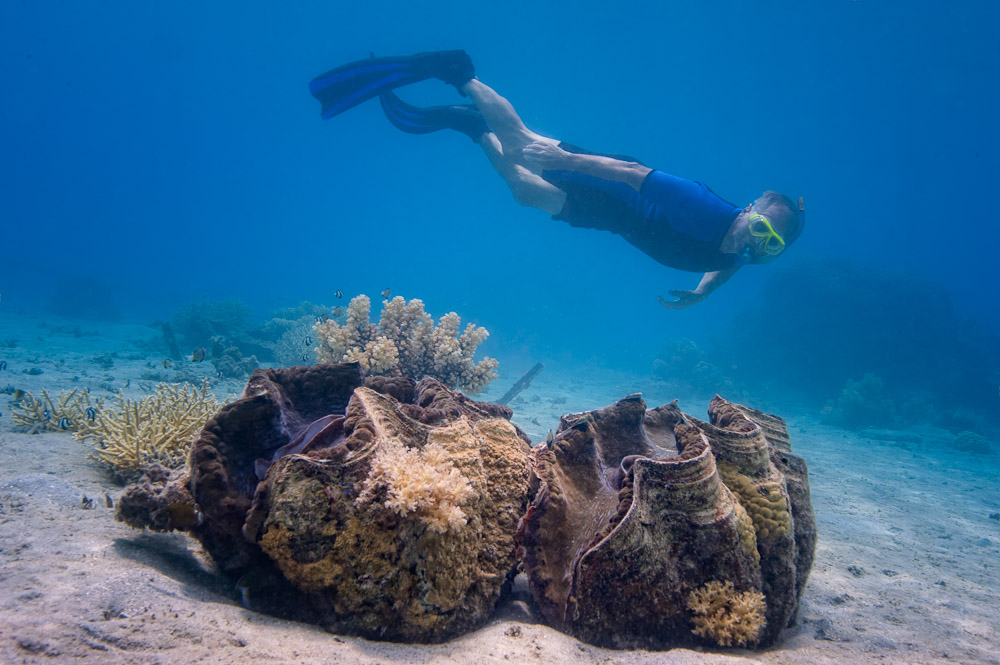 4'6″. So I'm thinking maybe it was not quite that big. Let's say it was 3′ and weighed 350 lbs. Anyway, the clam was just 'sitting' there with its massive shell open.
The setting sun created a tapestry of colors in the sky; the water was calm and shimmering and we were just floating, in tune with our environment in complete silence, looking down while breathing through our snorkels. Our breathing created a crackling sound, as the air disturbed the water droplets which was amplified by the snorkel.  I clutched the stone. Without saying a word I dropped the stone (very very dumb) and watched it sink reluctantly towards the bottom. As it fluttered down I realized where it was going. When it reach its destination part of me was excited — I got a hole in one! — and part of me was terrified because I knew what I would do next. We could see the rock resting on the soft, smooth bed of flesh 'inside' the clam.
Joe and I regrouped at the surface and removed our snorkels so we could speak. Our exchange and my impulsive decision lasted no more than a few seconds. "Let's go get it," I said. We each took a deep breath, re-positioned our bodies downward and dove 10′ to the bottom. We grasped opposite  sides of the massive clam to keep us from floating to the surface. We looked at each other, for a moment, and without a second thought or even thinking at all, I saw my hand plunge past the threshold of the open shell (very very very very dumb) — the entrance to the clam. As if it were disconnected from my body and my control. I knew I was beyond the point of no-return (shouldn't that be "beyond the point of return?"). In an instant, I saw and felt the two shell halves come together as my arm brushed the sensory receptors on the edge of the shell, or perhaps once my hand touched the gooey clam flesh. At that moment I realized — I had just done something very stupid. But since my hand was down there anyway, I grabbed the stone. My hand signaled to my brain to get it the hell out of there. I was my stone-grasping hand move upward, through the area that belonged to the clam. I was in his world. How long did I have? At that moment I realized I never really assessed the risk of this rescue mission — Maybe I should have gone to shore first to check with a clam expert who knew how long it would take for clam shells to close once stimulated. How many people would it take to lift a clam like the surface in case I got stuck and didn't want to drown? Would the clam be angry with me and bite my arm off? Should I just leave the rock there and come back in a few years and collect a giant pearl? But if you are an impulsive 24 year old there is no time for this type of thoughtful inquiry. You just act.
At the surface, probably about 10 seconds after our last conversation, Joe ripped off his mask and snorkel and said "I can't believe you just did that! I can't believe you just did that!"
I saved the clam. Actually I don't really know if I saved him. Because maybe he could have just spit that rock… maybe he would have been eaten that night. In either of these scenarios, my life would have been wasted if I were 1/2 a second slower or if that clam had just a few more 'fast-twitch' muscles.
Risk is a good thing. It is an important element of growth. Without risks, without fear, without the willingness to be uncomfortable, a person's potential is crimped. However, some risks are absolutely not worth taking.
In my professional world I am reliant on risk-takers for my livelihood. I have helped my clients achieve tremendous successes, and I have consoled many of these same folks as they experience the accompanying failures (learning opportunities!). Do you have a dream? An idea? An inspiration? A reach? Pursue it, because you'll never know what you can do until you try, and you don't want to leave this planet with regrets. Just don't stick your hand into the mouth of a giant bi-valve in the process.
Social Share